Redeemer Summer Kamp
August 1-7, 2020
Information for Registered Campers
Please read through this document in its entirety as it has important information and policies you need to know before coming to Kamp. Also read through our Kamp FAQs as it may answer additional questions you have. After you have read this entire page, if you still have questions or need to discuss a special situation please reach out to us:
Email: redeemerkamp@gmail.com
Tim Springer, Kamp Director 248-930-2215 (Cell)
Laura, McDonald, Administrative Director 248-644-4010 (Redeemer)
Erin Springer, Kamp Registrar, 248-770-2999 (cell)
CAMP SERVICE PROJECT – DONATIONS REQUESTED
This year as part of our craft program, our campers will be decorating and filling camp care packages that will be delivered to foster kids going off to summer camp in August. We truly believe that attending a christian summer camp changes kids lives. We have seen with our own eyes how important the summer camp experience can. We have decided to use some of our resources and time to help other kids in Michigan experience summer camp. We hope to decorate and pack 55 care packages. If you would like to help us donate some of the items for the care packages, we would be so grateful. Donations are completely voluntary, but if you could grab an item or two while you are shopping for your camper – We believe we have a great opportunity to help those in our community and teach our kids to think outside of themselves. In order to cover all our bases (and not receive 100 of one item and 0 of something else) we have broken down the donations as follows:
Kid Campers (3-6th grade): please bring a ziploc bag containing the following travel size toiletries: toothbrush, toothpaste, shampoo, conditioner, body wash/soap, deodorant, and sunscreen (optional).
Kat Boy campers (7-9th grade): please bring a pillow and pillow case
Kat Girl Campers (7-9th grade): please bring a water bottle and stationary for the kids to write letters while at camp. 
We are also looking for a few of the following items: Bug spray, booklets of stamps for letter writing, packages of pencils, playing cards or other fun camp things to include in the bags.
If you feel inclined to donate items, please bring them with you to camp and drop them off at check-in.  We priced out the items at stores such as dollar store, target, walmart, etc. . and it seems that you should be able to purchase your assigned item for $10 or less. Thanks in advance, we are excited about this new undertaking at Kamp this summer!
CHECK- IN & CHECK-OUT
CHECK-IN: SATURDAY JULY 27, 2019 2:00pm-3:30pm
All campers should be dropped off at Camp Michawana on Saturday July 27, 2019.  Use the following address for directions to camp (do not use this address for snail mail, see below for mailing address):
Camp Michawana
6475 Wilkins Rd
Hastings, MI 49058
DO NOT ENTER AT THE FAMILY CAMP ENTRANCE OFF OF HEAD LAKE ROAD WHICH LOOKS LIKE THIS: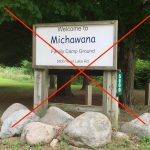 ENTER AT THE MAIN ENTRANCE OFF OF WILKINS ROAD WHICH LOOKS LIKE THIS: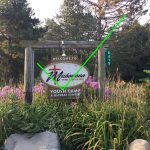 Please arrive at Camp between 2:00pm-3:30pm. We will not check-in any campers before 2pm so please make every effort to arrive no earlier than 2pm. If you arrive before 2pm please wait in your car or make a line outside of the chapel doors.  
If you absolutely need to arrive at camp at any point after 3:30pm on Saturday please contact the camp register, Erin Springer (248-770-2999 or redeemerkamp@gmail.com), no later than Saturday July 20, 2019 to make other arrangements.
Check-in takes place in the Chapel. Once you arrive at the camp main entrance turn right and follow the road which will curve to the left and then park at the bottom of the hill near the sand volleyball courts. The Chapel is the building at the top of the hill above the courts.  Kamp staff will be stationed around camp and along the main camp road to direct traffic.
When you arrive at check-in leave all luggage in the car. Please bring with you to check-in: (1) all Medications (both prescription and over the counter); (2) any and all food/candy etc that you have brought to camp (all food brought to camp should be peanut and tree nut free).  See below for special instructions regarding medications and food brought to camp. (3) any donations you have for our camper care package service project.
At check-in you will be given cabin and counselor assignments. Once you have completed the check-in process you may go to the cabin with your child and help them get settled. We ask all parents/family to leave the camp grounds by 4:00pm.
CHECK-OUT: FRIDAY AUGUST 2, 2019:
On Friday August 2, 2019 we will have an early lunch at camp and then all campers will be bussed back to Redeemer Lutheran Church (1800 W. Maple Rd, Birmingham, MI 48009) right after lunch. We typically arrive at Redeemer around 3:00-3:15pm. Please plan to be at Redeemer no later than 3:00pm. Park on the west side of the building and proceed to the sanctuary. (Enter from the doors that face Maple Road.)  Once the campers arrive they will be guided into the sanctuary and will sit in the reserved pews with their cabin. We will have a 15 minute closing ceremony and then you will pick up your camper from his/her counselor. Your child's counselor will hand you a check-out form and you will proceed with your child to the designated check out area. Once you have completed the check-out process you may pick up your luggage on the west side of the church building and leave.
PLEASE DO NOT LEAVE WITH YOUR CHILD UNTIL YOU HAVE COMPLETED THE CHECK-OUT PROCESS. This is for the safety of all our campers. Your child will only be released to the people you listed on your child's health profile when you registered. You can make changes to the people authorized to pick up your child by logging into Campdoc anytime before July 1. After that date any changes to the people authorized to pick up must be sent in writing to redeemerkamp@gmail.com.  We will ask everyone for photo ID (yes, even parents) at check-out.
PICK UP FROM CAMP: FRIDAY AUGUST 2, 2019 10:30-11:00am
If you wish to pick up your child from camp on Friday Morning, pick up time is between 10:30-11am. Your child will be packed and waiting for you in the Chapel (same place where you checked-in).  Please make sure you have indicated on your  child's health profile in campdoc that your child will NOT be riding the bus. Please make every effort to arrive during this timeframe. If you do not arrive at camp by 11:00am your child will be riding on the bus back to Redeemer.
PACKING LIST
Please see the packing list here: camper packing list 2019
PLEASE LABEL EVERYTHING YOU BRING TO CAMP
In additional to all the normal stuff please pack a plain white t-shirt (labeled with your camper's name) for tie dye. Also pack a bible that is labeled with your name. Please do not pack a special family bible as things sometimes get misplaced.
Please pay close attention to the dress code which is listed on the packing list. We ask that you only pack clothing that follows our dress code.  Campers out of dress code will be asked to change. Please make sure all items are labeled with your camper's name. Please also remember that we are very active at camp and that many of our activities involved getting dirty. So please pack accordingly!
On Wednesday evening we have a camp dance. The 2019 theme is "Sarfari". Many campers enjoy dressing up in costume for the dance but it is not required. Please remember dress code still applies.
PROHIBITED ITEMS
Alcohol, tobacco, illegal drugs, controlled substances and fireworks of any sort are prohibited on camp grounds. Anyone found in possession of these items will be immediately released from camp. We will call home and the camper must be picked up as soon as possible.
Please leave all jewelry, valuables, money and electronic devices at home. No cell phones, handheld games, ipads or tablets should be brought to camp. Please do not bring any smart watches or apple watches.  If any camper is found to be in possession of any electronic devices (including cell phones) camp staff will hold those items and they will be returned to parents at check-out.  There is nothing to buy at camp so all money should be left at home. Redeemer Summer Kamp is not responsible for any items that are misplaced or lost  at camp.
Lastly, please do not bring silly string or similar products to camp, any of these types of items will be confiscated until camp is over (unfortunately we have discovered the hard way that silly string often causes damage to the camp buildings and property).
REMIND TEXT MESSAGE SERVICE
We use a text messaging service called Remind to send out occasional text message blasts to all the camp families. We will not send out regular updates or numerous messages. It will be used only to relay important information that all camp families need to know or to update families after severe weather or other emergency. If you wish to sign up to receive text messages from us please text @kamp2019 to 81010. You can also sign up by following this link https://www.remind.com/join/kamp2018 (If you sign up online you can enter a cell number or email address if you prefer to have the updates emailed to you). Here is more information on signing up:  remind 2019
MAIL
You are welcome to send your camper mail. If you wish to send any letters via USPS please make sure to send them early in the week (or even before your camper leaves) to ensure it arrives before camp is over.  Please use the following address for snail mail:
Camper's Name
Counselor Name
Redeemer Summer Kamp
c/o Camp Michawana
5800 Head Lake Rd
Hastings, MI 49058
You may also bring mail with you to check-in and we will distribute it during the week.
CAMPER EMAIL
You may also send your camper an email to redeemer.kamp.mail@gmail.com (THIS EMAIL ADDRESS IS FOR CAMPER MAIL ONLY– any other camp related emails should be sent to redeemerkamp@gmail.com). We will print the emails and distribute them throughout the week. We have limited paper and ink resources so please try to keep the emails to a reasonable amount! We can only print a couple of emails per camper for the week or we will run out of Ink. We also cannot print images. Thanks for your understanding.
PHONE CALLS
Campers are not permitted to have cell phones while at camp. Please leave them at home. As a standard policy campers are not allowed to make phone calls while at camp. If you need to reach us please call Kamp  Director Tim Springer on his cell 248-930-2215 or  Kamp register Erin Springer at 248-770-2999.  Please remember cell reception is spotty at camp so please leave us a message and we will get back to you (Text messages are okay as well). We are not able to respond to  voicemails and texts asking general questions how a camper is doing, etc. . . We are very busy at camp so please reserve phone calls for emergency situations or to relay important information to us.
In a emergency if you cannot reach us please call Redeemer's Main office at 248-644-4010 and they will reach us.
ELECTRONIC HEALTH FORMS
All health information is completed electronically through campdoc. ALL FORMS SHOULD BE COMPLETED NO LATER THAN JULY 1, 2019. Make sure your forms are 100% filled out on or before this date.  If all forms on campdoc are not filled out 100% on or before July 1 and you have communicated with us regarding a special situation, we will deactivate your child's registration and begin offering spots to campers on the waitlist.
MEDICATIONS
All medications you are bringing to camp must be listed on your campers health form on CampDoc. Even over the counter medication should be listed, also epi-pens should be listed as a medication on your health profile. if you are bringing any type of medication with you to camp it must be on your form. Please make sure your medications and health information is 100% accurate and updated by July 1.  Every year we have many people bring medications to camp that could have been, but were not, listed on the health forms (medications prescribed just before camp are the exception) and this greatly slows down the check-in process and creates a lot more work for our Camp Nurse.
Please read and observe the following medication guidelines:
All medication both prescription and over the counter must be in the original bottle with the prescription label on the bottle (with dosing information and prescribing physicians contact information). Place all your child's medication in a clear plastic bag labeled with your child's name. Do not take the medications out of their original bottles or place them in pill boxes.  WE WILL NOT DISPENSE ANY MEDICATION THAT IS NOT IN ITS ORIGINAL CONTAINER
Please leave all standard over the counter medication at home (like Tylenol, Advil, or Motrin) as we always have that stocked. If your camper takes an allergy medication (like Zyrtec or Claritin) on a daily basis then please list that on your health form and bring it to camp (many campers experience environmental allergies at camp, even if they were not at home, so if you feel this might happen to your child, please send them with allergy meds).
NO MEDICATIONS OF ANY KIND ARE ALLOWED IN THE CABINS. All medications (including any over the counter medications like Tylenol, allergy meds, vitamins, etc . . .) must be brought to check-in and left with the camp nurse.
If your child has an epi-pen make sure to bring two epi-pens that are clearly marked with your child's name. Please make sure to list the epi-pens on your child's health form under medications.  Although epi-pens are carried by the counselors during the week, you must still stop and see our Camp Nurse and check-in the medication so she knows you have brought it to camp.
Please do not bring vitamins or other non essential medications to camp. If your child absolutely must take a vitamin or supplement while they are at camp please bring a note from your physician explaining that it is medically necessary for these medications to be given while at camp. Without a doctor's note, we will not dispense vitamins. 
We really appreciate your cooperation with the above guidelines. Please contact us if you have questions about your child's medications or health information. We can put you in touch with our Camp Nurse in advance of camp if need be.
BRINGING FOOD TO CAMP
There is no food allowed in the cabins. Do not pack any food, candy or drinks in your child's luggage.  Any food found will be kept by the camp staff and returned to the parents at check-out.  Also please do not send any food in the mail. We are an allergy aware program. Meaning we take food allergies very seriously and we make all our staff aware of camper allergies. We have asked the camp kitchen to not serve any food that contains peanuts or tree nuts in any of the food they provide for us  (but they do not guarantee that items are not processed in nut facilities). We ask that you do not bring any food to camp. Camp provides three meals a day and an evening snack.
If your child has special dietary needs you may bring food to supplement your child's meals. We do have refrigerator space designated for these food items. Your child will also have access to a microwave and toaster. Please make sure to label all food items with your child's first and last name. Please bring all food items to check-in. Please make sure all food items brought to camp are tree nut and peanut free. Only campers with special dietary needs are permitted to bring their own food from home.  If you would like to discuss any specials situations before camp please call Tim Springer, Director at 248-930-2215.
REFUND POLICY/EARLY RELEASE FROM CAMP
If you voluntarily cancel prior to camp we do not offer a refund, unless we have reached capacity and are able to replace your child with another camper off the waitlist. All other requests for refunds are made at the Director's discretion. There are no discounts offered for campers who arrive late or leave early (unless you are registered as an explorer camper). If your child must leave camp during the week due to injury or illness we will prorate a refund.
In the event a camper's behavior is determined to be dangerous to himself/herself or others or is disruptive to the camp program, at the Director's discretion, a camper may be sent home. Parents will be contacted and  will be expected to pick up their child from camp within a reasonable amount of time. No refund is available for early release from Kamp.