iZōsh® is an organization of women dedicated to the economic empowerment of women globally who are living in extreme poverty. By giving grants and micro-loans to these women, we help them to lift themselves out of extreme poverty and reduce the risk of oppression and exploitation in their lives.
WHO
iZōsh meetings are intergenerational gatherings open to women of all ages, faiths and beliefs. You can commit to becoming a member by clicking here and filling out a membership form. Thank you to all of our members who have committed to funding loans with us twice a year, even if they can't join us in person. There is no commitment too small to become a member – you choose the amount of your dues, something that is meaningful for you. (Due to the support of Redeemer's mission fund 100% of the money donated is used to fund grants and micro-loans. All donations are tax deductible and you will receive a tax receipt from iZōsh Birmingham via email in early 2023.)
In addition to membership, you can participate and support the mission of iZōsh by joining one of our committees. All you need in order to join in this work with us is a shared passion for helping women. I promise you the reward is BIG and the time commitment is truly minimal! Join so women across the globe can count on you! Join so that iZōsh will continue to be here! Join because your partnership is desperately needed. You will be connected to a wonderful community of women who care. If you are interested in learning more about membership or volunteering please contact us at izosh.birmingham@gmail.com.
WHAT
We connect around tables with great snacks, informal conversation, and many opportunities to participate in the night's activities. Together, we learn, as we hear from expert speakers on issues that women living in extreme poverty encounter. At every Event, we economically empower women living in extreme poverty through the funding of grants and micro-loans. We fund the business dreams of the selected recipients during two rounds of voting: stone-voting (larger loan requests and your opportunity to cast an individual vote) and table-voting (smaller dollar amounts and the recipients are selected collectively by the women sitting at the table together). Then, our treasury team and loan officer team work hard to ensure that 100% of the money is spent to economically empower women during the Event. Due to the generosity of our members and guests, our lifetime chapter total is $54,782 donated which has funded the business dreams of 177 women. Behind every number is a face, a name, a business built – a hope for a better tomorrow! Finally, we… celebrate! Though the Event is filled with reflective and somber moments, you will hear cheers, clapping, and see creativity fueled by the joy of empowering women.
WHEN & WHERE
We gather twice a year – in the spring and the fall for our Events.
On Friday, November 18th, 2022 49 women gathered in person (and a few via Zoom) for our Fall Event. $8,570 dollars was donated which allowed us to fund 20 micro-loans and grants to women through the portals of Kiva, Opportunity International, and Healing Hands of Joy.  We continue to be motivated by the fact that our investment into the businesses' of these women has the opportunity to grow into something so much bigger – for not only her, but her family and community as well.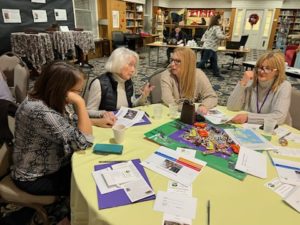 New to this Event, we played a trivia game using kahoot.it as a fun and interactive way to share the history and "why" behind the mission of iZōsh. The room was full of laughter and discussion as members and guests, young and old, played along and watched their position change on the leaderboard. The winner received a coffee mug from Half The Sky coffee shop in Wheaton, IL. All purchases made there provide hope and dignity to those affected by extreme poverty, trafficking, or addictions locally and globally. You can learn more at myhalfofthesky.org.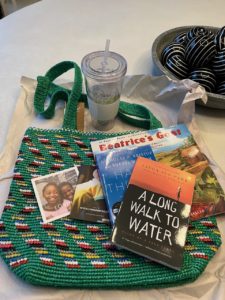 We also had a raffle in which a lucky guest received a bag from Chikumbuso, a grassroots project in Zambia, with the goal of building brighter futures for the women and children of Ng'ombe;  books from award winning authors who inspire us with a passionate call to arms against the oppression of women around the globe; and a water tumbler from Half the Sky coffee shop. Learn more and support the mission of Chikumbuso by visiting www.chikumbuso.com.
We were extremely fortunate to have Mallory Brown as our keynote speaker. Mallory has traveled to over 60 countries, started two social impact companies, published over 40 humanitarian films, and raised hundreds of thousands of dollars to fight international poverty.  In her latest endeavor called Walk A Mile, Mallory is walking a marathon, one mile at a time, stepping into the shoes of 26 impoverished women around the world.  26 miles. 26 women. 26 stories of strength.  Each "mile" is a fundraiser that benefits a local women's charity. We watched mile one about Elizabeth from Tanzania, who started a business making clay stoves to solve a major community health crisis caused by cooking over open flames indoors. Elizabeth's story helped us to see how something that seems so small, so insignificant, can lead to incredible change! We were so inspired by Malloy's passion for women's empowerment and the lessons she has learned from her journey. She is releasing her latest mile, mile #9, on Giving Tuesday which falls on November 29th, 2022. Visit www.travelmal.com to watch her latest mile as well as all the other miles she has filmed.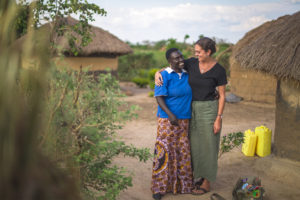 As Mallory showed us so beautifully, change begins with a single step. We are so grateful for everyone who took that step with us for the first time, or maybe the 8th time, at this Event. We hope more like-minded women are interested in joining us on this journey to make a difference in the world! We are always available to answer any questions you may have or discuss the exciting opportunities there are to get more involved with our chapter! Email us at izosh.birmingham@gmail.com. Check back soon for information about our Spring Event!
WHY
Many women in extreme poverty live in areas where banks are not available or will not lend to the poor. A small grant or loan allows her to establish a business, transforming her family's lives with a "hand up" rather than a "hand out." When she repays her loan, the money gets re-invested in a new loan so the cycle of supporting women continues.
"Speak up and judge fairly; defend the rights of the poor and needy." Proverbs 31:9
**Make sure to follow us on Facebook for Event updates and photos! @ iZosh Birmingham
Questions or comments? Please email us at izosh.birmingham@gmail.com
---