iZōsh® is an organization of women dedicated to the economic empowerment of women globally who are living in extreme poverty. By giving grants and micro-loans to these women, we help them to lift themselves out of extreme poverty and reduce the risk of oppression and exploitation in their lives.
WHO
iZōsh meetings are intergenerational gatherings open to women of all ages, faiths and beliefs. You can commit to becoming a member by clicking here and filling out a membership form. Thank you to all of our members who have committed to funding loans with us twice a year, even if they can't join us in person. There is no commitment too small to become a member – you choose the amount of your dues, something that is meaningful for you. (Due to the support of Redeemer's mission fund 100% of the money donated is used to fund grants and micro-loans. All donations are tax deductible and you will receive a tax receipt from iZōsh Birmingham via email in early 2023.)
In addition to membership, you can participate and support the mission of iZōsh by joining one of our committees. All you need in order to join in this work with us is a shared passion for helping women. I promise you the reward is BIG and the time commitment is truly minimal! Join so women across the globe can count on you! Join so that iZōsh will continue to be here! Join because your partnership is desperately needed. You will be connected to a wonderful community of women who care. If you are interested in learning more about membership or volunteering please contact us at izosh.birmingham@gmail.com.
WHAT
We connect around tables with great snacks, informal conversation, and many opportunities to participate in the night's activities. Together, we learn, as we hear from expert speakers on issues that women living in extreme poverty encounter. Next, we fund the business dreams of the selected recipients during two rounds of voting: stone-voting (larger loan requests and your opportunity to cast an individual vote) and table-voting (smaller dollar amounts and the recipients are selected collectively by the women sitting at the table together). Then, our treasury team and loan officer team work hard to ensure that 100% of the money is spent to economically empower women during the Event. Finally, we… celebrate! Though the Event is filled with reflective and somber moments, you will hear cheers, clapping, and see creativity fueled by the joy of empowering women.
WHEN & WHERE
We gather twice a year – in the spring and the fall for our Events.
Thirty women gathered in-person and via Zoom for our Spring Event on Friday, May 13th. We were educated by our Keynote Speaker, Li Lou from the World Bank, discussed two powerful and inspiring books that were recently published and affiliated with our past speakers, and as always, economically empowered women living in extreme poverty through the funding of grants and micro-loans. Due to the generosity of our members and guests, $7,775 was donated which funded the business dreams of 22 women bringing our lifetime total to $46,212 and 157 loans. Behind every number is a face, a name, a business built – a hope for a better tomorrow!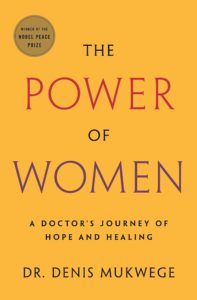 We were fortunate enough to have Dr. Jackie Ogega from World Vision, our Spring 2021 Event speaker, join us via zoom and read to us the introduction from her memoir Home Is Us, a story of her mother's struggle to protect herself and her daughters. We also discussed an excerpt from Nobel Peace Prize winner Dr. Denis Mukwege's book – The Power of Women: A Doctor's Journey of Hope and Healing – released November 16, 2021. Dr. Mukwege's son, Dr. Alain Mukwege was our Fall 2019 Speaker. If you haven't had the opportunity to read these amazing books, both will be available to borrow from the Redeemer library and are available to purchase on Amazon.
The undeniable thread that connects both of these powerful books is that women need to be valued and seen as equals. That they should have the same rights to an education, land ownership, and independence as a man. When given hope, and an opportunity, they thrive and pass along their success to their family and community.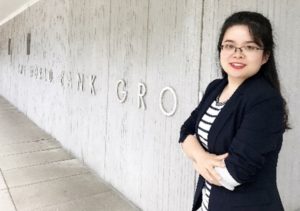 Li Lou highlighted how the World Bank is working to achieve this through their Gender Equality Strategy, with a focus on removing barriers to women's ownership and control over assets – land, housing, and bank accounts – and improve access to finance. We were shocked to learn that over 1 billion women worldwide don't have an ID. Something we all take for granted here in the United States but likely do not recognize how crucial an ID is to have access to many different opportunities. Learn more here.
Please SAVE THE DATE for our Fall Event which will take place Friday, November 11th at 7pm EST.
Our keynote speaker is Mallory Brown, native Michigander, who is on a quest to walk a marathon, one mile at a time, stepping into the shoes of impoverished women. She travels the world to tell real-life stories of human connection. At the age of 35, she has traveled to 60+ countries to encourage a more compassionate, connected world. Mallory speaks to audiences across the globe about the power of empathy and how one individual can truly make a difference. It is sure to be an INCREDIBLE Event!!! Learn more here!
WHY
Many women in extreme poverty live in areas where banks are not available or will not lend to the poor. A small grant or loan allows her to establish a business, transforming her family's lives with a "hand up" rather than a "hand out." When she repays her loan, the money gets re-invested in a new loan so the cycle of supporting women continues.
"Speak up and judge fairly; defend the rights of the poor and needy." Proverbs 31:9
**Make sure to follow us on Facebook for Event updates and photos! @ iZosh Birmingham
Questions or comments, please email us at izosh.birmingham@gmail.com
---