Redeemer Summer Kamp is a week long overnight camp for kids that will be entering the 3rd -9th Grade. Redeemer Summer Kamp is a ministry of Lutheran Church of Redeemer in Birmingham, MI. 2021  will be our 54th consecutive year holding Kamp. We hire great counselors and C.I.T.s (Counselors in Training) and have very experienced senior staff. Our camper and staff retention rate says it all.
Redeemer Summer Kamp Mission Statement: 
Redeemer Summer Kamp strives to give each camper a positive camping experience in a safe, secure, Christian setting.  We integrate bible study and worship with outdoor activities, swimming, crafts, boating, games, and more in an attempt to introduce campers to Jesus, help them grow in their faith, and help them build positive relationships that will last them a lifetime.
We are a Christian Camp:
We are mission of Lutheran Church of Redeemer. We strive to make everything at camp, including
activities, games, bible studies and worship, age appropriate.  We welcome kids of all Christian denominations,  along with kids of other faiths or those that have not yet heard about the good news of the Gospel. But we are a Christian camp and and we do teach Christian truths.  Redeemer is a member of the Lutheran Church- Missouri Synod. You can learn more about what the Church believes by visiting the Who are We? page. You can contact the Kamp Director, Tim Springer at redeemerkamp@gmail.com  or our Head Pastor, Rev. Randy Schlak, at 248-644-4010 if you have more questions.
Camp Facilities
Since the summer of 2007 we have rented Camp Michawana to host Kamp. Camp Michawana is a Christ-centered camp with beautiful grounds and sits on a big lake, great for swimming and boating. The camp is located just South of Grand Rapids. While it is a bit of a journey to camp we have found that Camp Michawana offers us so many advantages. Camp Michawana has a Christian staff and a Christian mission. They have always been willing to work with us to accommodate our program.   They also offer some great activities we are able to take advantage of including: high ropes course, zip line, archery, climbing wall,  and swimming & boating.
You can check out more information about Camp Michawana here.
**Please remember that Redeemer rents Camp Michawana and that Camp Michawana does not run our camp in any way. Please do not contact them with questions regarding our camp program – contact our camp director or registrar. If you have a question about the camp facilities please first contact us and we will contact the camp if necessary.
KAMP STAFF
Camp Michawana provides kitchen staff, water front staff and trained staff to assist in certain camp activities such as the ropes course. However our campers are always supervised by our own Counselors , Counselors-in-Training (C.I.T.s), and senior staff. All our counselors and CITs are active members/friends of Redeemer. They are active participants in our senior high and college ministries.  God has blessed us with so many eager applicants for Kamp staff each year that we have the luxury to be very selective. All our staff are vetted and hired by a Committee of lay church members who are all former campers and staff members of Redeemer Summer Kamp.  We look for teens and young adults that have experience working with children, a demonstrated maturity and a sincere relationship with God.  We expect our Counselors and CITs to be excellent role models to our campers, not only for the week of Kamp, but all year long.
We are a licensed camp program through the state of Michigan, which means we follow all state guidelines in hiring staff. If you have any questions about our staff or hiring practices please contact us
Senior Staff
We have an amazing Kamp Staff – it is what sets us apart from so many other camps, and that starts with our Senior Staff.  Our Senior Staff has almost 100 years of combined experience on Kamp Staff!  All our staff from the Kamp Director down to the program directors, counselors,  CITs and volunteers are so passionate about our program. Most of our staff came up through the program as campers and return as staff year after year to provide the best possible Kamp experience for every camper, every year. We would like to take a minute to introduce you to our Kamp Senior Staff, so you can get to know us a little better.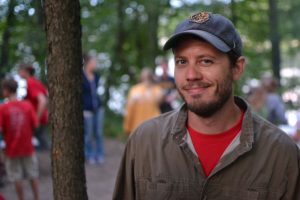 Tim Springer Jr., Kamp Director:   Tim is a lifelong member at Redeemer. Tim started at Kamp as a 3rd grade camper 30 years ago. 2021 will mark Tim's 23nd year on Kamp staff. He has been a Counselor (3 yrs), Program Director (8 yrs), Assistant Director (3 yrs),  and this year will be his 9th year as Kamp Director.   Tim was a long time mentor for the Senior High Youth Group at Redeemer. He is also a member of the Board of Elders at Redeemer.  Kamp is truly a labor of love and Tim manages to squeeze in Kamp each year while working full time and spending time with his family.  Tim has three kids, ages 8, 6 and 3.

Laura Vowell, Administrative Director/Staff Liaison: Laura's hard work and dedication to Kamp over the years have been invaluable.  Laura handles much of the administration work and record keeping.  She keeps everyone organized and on task!
"This will be my 18th year on staff. I am a life long redeemer member and started at Kamp in 3rd grade. I have been a camper, a CIT (3 years), Counselor (5 years), Kid Program Director (6 years), Assistant Director (2 Years). This year I will be assisting camping mostly on the homefront here at Redeemer as the Administrative director. In 2018,  I started work at Redeemer full time as Director of Family Life, Middle School, & Outreach. I was an elementary school teacher for 7 years and have lots of various experience with children… too much to list…. I love Kamp because, as a staff, we are all there working hard together to help the campers grow in their faith lives and to give them a great Kamp experience!  I also love Kamp because I love watching the campers interacting with one another (without their phones!) and just having good ol' fashioned FUN in a safe, Christian atmosphere! I like church and I like kids and I like to decorate and I like to bake."
Laura's favorite Bible verse:"I keep my eyes always on the Lord.  With Him at my right hand, I will not be shaken." Psalm 16:8
Sean McCauley, Assistant Director: "City Boy" Sean has been on Kamp Staff for the past 15 summers and is an invaluable member of the Kamp senior staff. Sean had been a camper, CIT, Counselor and Program Director. 2021 will be his 3rd year as Assistant Director. 
"I have  spent three years as a Kat Kamper, two years as a CIT, six years as a Counselor, 7years as a Program Director for Kat Kamp  and 2021 is my 3rd year as Assistant Director. This makes me feel very old but also very blessed to be able to spend a week every summer doing something I love.  I love Kamp because of the communal Christ-filled experience it offers all those who attend.  It is a blessing to be able to think about nothing else except serving others and loving God for an entire week.  Sean is a better baker than Laura."
Sean's Favorite Bible Verse: "Above all else, love each other deeply, because love covers over a multitude of sins." 1 Peter 4:8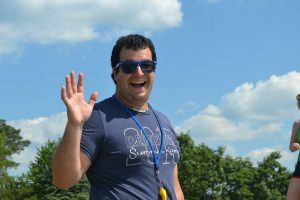 Brian Margosian, Kid Program Director: Brian is in charge of the day to day activities and program for Kid Kamp (3rd-6th grade). Brian is a great asset to the Kamp program, not only does he plan fun games and activities for Kid Kamp he is also our in-house tech support!
"For the majority of the year, I am a software and hardware engineer at Argo AI, a small startup working on delivering a full self-driving autonomous vehicle system to large-scale automotive companies. Specifically I work on high performance computing design and implementation. However — I'm always looking forward to the first week of August: KAMP TIME! My involvement in Redeemer Summer Kamp's staff goes back 13 years in 2021! I have been a Counselor in Training for 2, Counselor for 6, and 2021 is my 5th year as Kid Kamp Program Director. Even before Kamp, I have been involved with Redeemer's children's programs since I was young — started volunteering at VBS and Sunday School as far back as middle school! I love being able to "let my ridiculous side out" around the kids, entertaining them while teaching them about God."
Brian's favorite Bible verse: "Do to others as you would have them do to you." Luke 6:31. I live my life based on this verse; always striving to put others' needs above my own. Really all of Luke 6:27-36. I can't think of a time when respectful behaviors and attitudes were not the first "rule" I gave my Kampers when they arrived on their first day."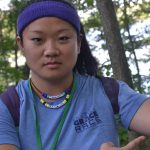 Hannah Rose: Kat Program Director Director: Hannah has worn many hats at Kamp, This year will be her 3rd year running the program for the Kat campers and mentoring the Kat camp staff.  She is a blessing to have on staff because she always pitches in no matter the job! Hannah brings a lot of energy and fun to Kamp every year.  
"Kamp is my favorite time of the year!  My love for Kamp started my first year as a 4th grade Kid Kamper, continued through two years of being a CIT, five years of being a counselor, and one year as Craft Director.  I'm excited to be returning this year as my 3rd year has Kat Program Director. I also volunteer with the high school Youth Group. I love Kamp because of the pure joy and happiness that both staff and campers exude when learning about God and His love.  I love seeing the Kampers let loose and be crazy in games, crafts, and music; without fear of being judged.  Kamp helped me grow in my faith and I am so happy that I get to help the Kampers grow in theirs. Outside of Kamp, I am a pediatric nurse. 
Hannah's favorite Bible verse: "Trust in the Lord with all your heart, and lean not on your own understanding; In all your ways acknowledge Him, and He shall direct your paths" Proverbs 3:5-6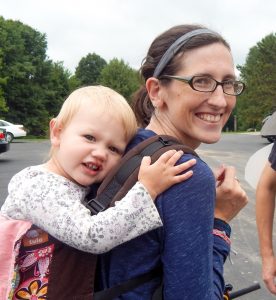 Erin Springer, Assistant Director/Registrar:  Erin manages our camp registration, keeps our Kamp website up to date and pitches in with whatever else needs to be done.
"2021 will be my 17 year on Kamp Staff. I have been a camper, a CIT (2 yrs), Counselor (7 yrs) and  Kid Program Director (1 yr). This summer will be my 7th year as registrar/Assistant Director.  Before I had kids of my own, I spent many years as a Youth Mentor for the Redeemer Senior High youth group and was a long time chaperone/director of the senior high mission trip. I absolutely love working at Kamp. As Registrar I get to know all the Kamp families as well as the campers. I really enjoy working with all our families to make sure every camper has the most rewarding experience at Kamp. Outside of Kamp, I am an attorney and also Librarian. I spend many hours volunteering in the library at my children's elementary school. I have three children ages 8, 6, and 3 who keep me very busy. I love Kamp because it is a welcoming, accepting place were kids can come together and just be kids all while building positive relationships with their peers and their Lord. God uses our program to change lives!"
Erin's favorite Bible verse: "Be joyful in hope, patient in affliction, faithful in prayer"   Romans 12:12
Julie Buechner, Camp Nurse: Julie has been our camp nurse for 19 years now and the kids and staff love her. She has her nursing degree from Michigan State University and  worked as a pediatric nurse at Beaumont Hospital for 12 years.  Julie and her husband, Toby,  own Troy Gymnastics. Julie loves taking care of all the campers. She has three kids that have all been campers and are now counselors and CITs – We take the safety and well being of every camper very seriously and having our own camp nurse that we know very well and love is such a huge blessing. If you have any health concerns about your child, Nurse Julie is always happy to talk with you before Kamp and she also would LOVE to chat with anyone about her experiences at camp as both a staff member and mom of a camper.
Peter Neumann, Music Director: 2021 marks the 21st year that Peter has been with us at Kamp. Peter lives in California with his wife and two adorable sons. Peter was formally a full time worship leader of his church in California for over 10 years. He has recently started his own ministry where he helps churches and other christian groups across the country run successful music ministries. Peter leads worship at countless camps, conferences, and mission programs every year. He has even recorded several CDs.  Back in 1998 a small group of our Senior High youth group met Peter when he was leading worship on a Mission trip. One thing led to the next and Peter was with us at Kamp for the first time in the summer of 1998. The rest is history! Spending time in worship each day is an important part of Kamp and Peter makes worship really fun.  We are so thankful that God has blessed us with all of Peter's talents! You can check out more information about Peter and even hear some of his recorded music on his website: www.neumannmusic.com